The 3rd edition of the DEEP Startup Ecosystem Conference that took place on 23-24 June, 2022 in Ludwigsburg (Stuttgart), Germany co-organized by the City of Ludwigsburg and Innovation Network brought together 90 international and local startup ecosystem leaders, innovation managers, governments, and entrepreneurs from 22 countries to stimulate discussions around the current startup ecosystems development topics and challenges, such as impact, corporate innovation, investments, and emerging ecosystems.

Will Manufacturers in Europe Survive the Impact of the New Internet?
Already today, large segments of the population rely on digital connections for work, education, health care, daily commercial and social transactions. Industry experts expect these technologies to quickly expand beyond the gaming industry and deeply affect consumer behavior as well as the way we interact, work, learn, and live. How Europe's industry can get ready for this new revolution?
The VR / AR market is estimated to be 35bn USD in 2025

The split of metaverse applications for consumers and industry is expected to be 50:50

Facebook made a loss of over $10 billion on its metaverse development department

Decentralized systems like tokens may provide a "lingua franca" between different metaverse systems

Digital twins' conceptualization has potential in both industry and consumer side
New devices combining virtual and augmented reality worlds promise the emergence of a completely new digital universe: Metaverse. There are expectations that these technologies will quickly expand beyond the gaming industry and deeply affect consumer behavior as well as the way we interact, work, learn, and live.
The metaverse term gained some traction in the 2000s with online gaming products and Facebook's rebranding in late 2021 brought the term into the mainstream discussion. It has the potential to be the next enterprise and consumer software infrastructure ecosystem. It offers augmented reality, virtual reality and mixed reality. As a continuation of industry 4.0, it encompasses artificial intelligence (AI), the Internet of Things (IoT), cloud computing, cyber physical systems (CPSs) and cognitive computing with a focus on automation. As part of this revolution, digital currency / assets have already received the highest public attention, resulting in a tokenization in many processes relevant to Metaverse.
It is way too early (like the early days of mobile) to find established patterns for predictions and there will be many surprises. Goldman Sachs predicts the VR and AR combined market size in 2025 to be at 35 billion USD, with a near 50-50 split on consumer and industry use (Metinko, 2022).On the industry side, the primary areas on which R&D is focused on are healthcare, real estate, engineering, retail, defense, and education. While industrial applications are currently trailing behind consumer use, the growth of enterprise MR technology purchases indicate a growth trend. Estimates put commercial spending for training at $4.1 billion, industrial maintenance at $4.1 billion, and retail showcasing at $2.7 billion in 2024 (IDC, 2020).
Venture Capital Funding for VR/AR, 2017-2021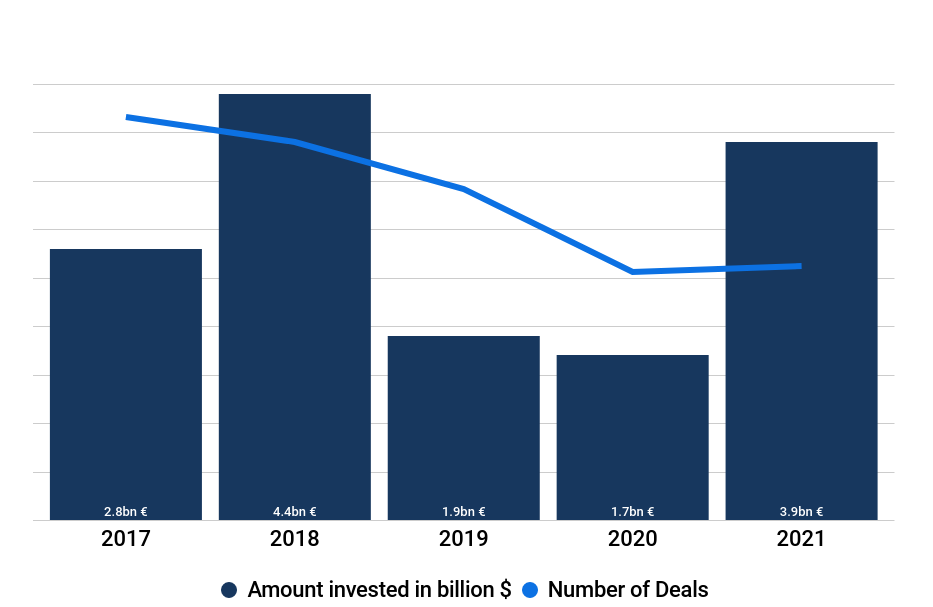 After the pandemic dip, VC investments have bounced back in volume but focus on a lower number of deals (Metinko, 2022). The number of deals seem to be in a steady decrease since 2017, however the VC capital funding trends seems unstable.
Total Equity Funding Amount Currency 2015-2022 (in million USD)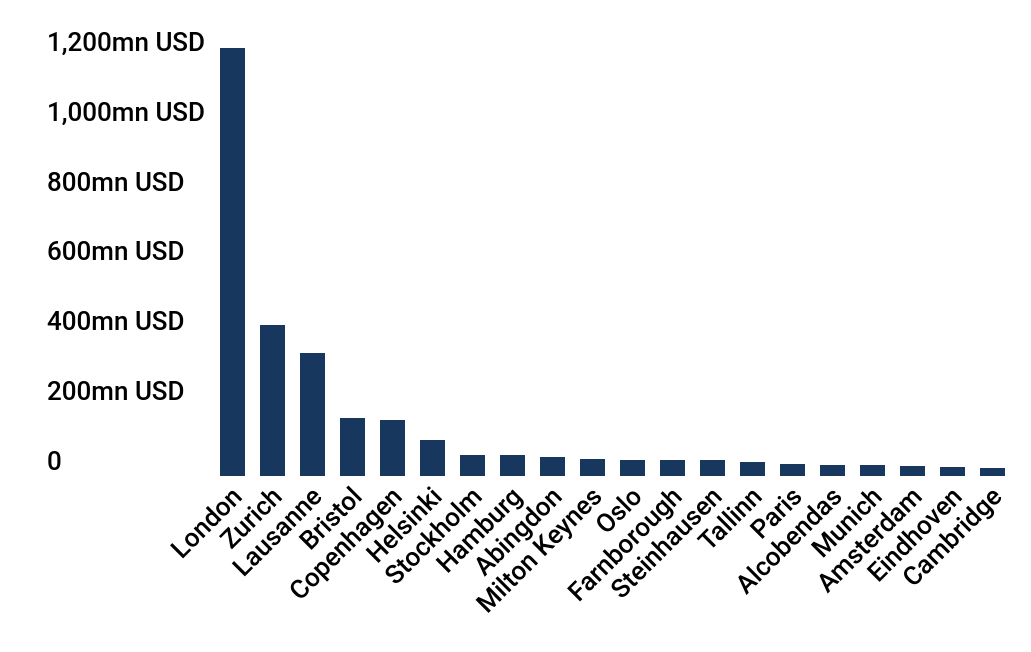 Geographically, the center is currently in London, and surprisingly no noticeable Equity funding in Berlin (Crunchbase, 2022).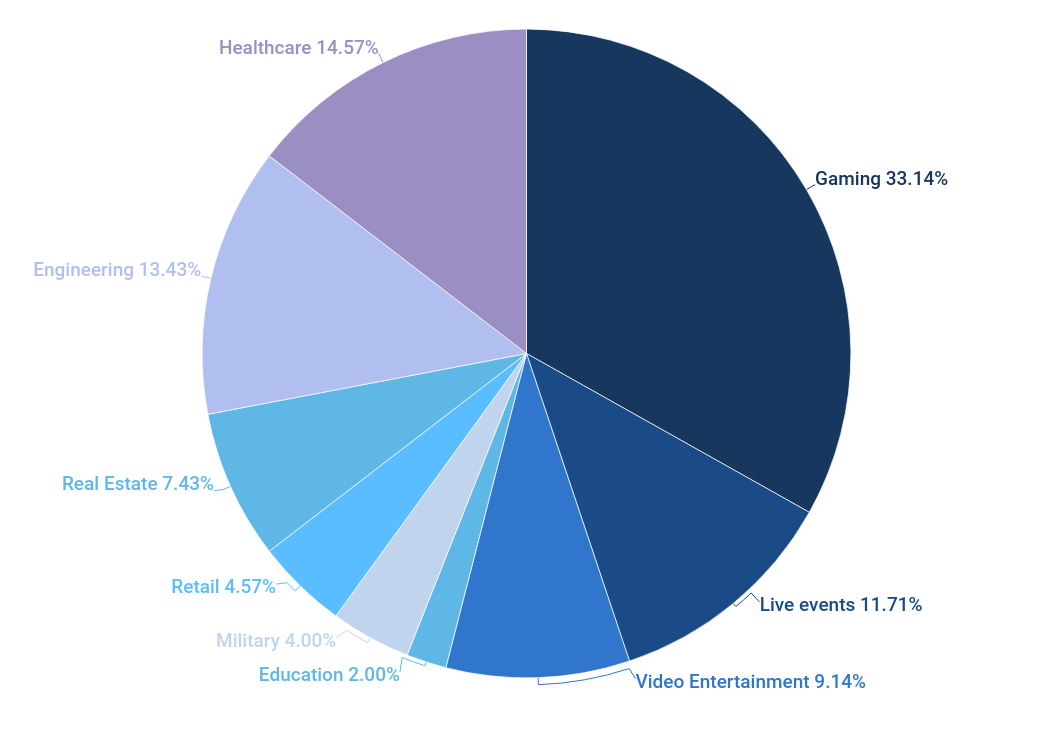 The global VR market size may increase to more than 12 billion U.S. dollars by 2024, a yearly growth of 36%. Yearly VR/AR headset sale is estimated to grow to 50 million by 2026, marking a 35% growth per year (Mileva, 2022).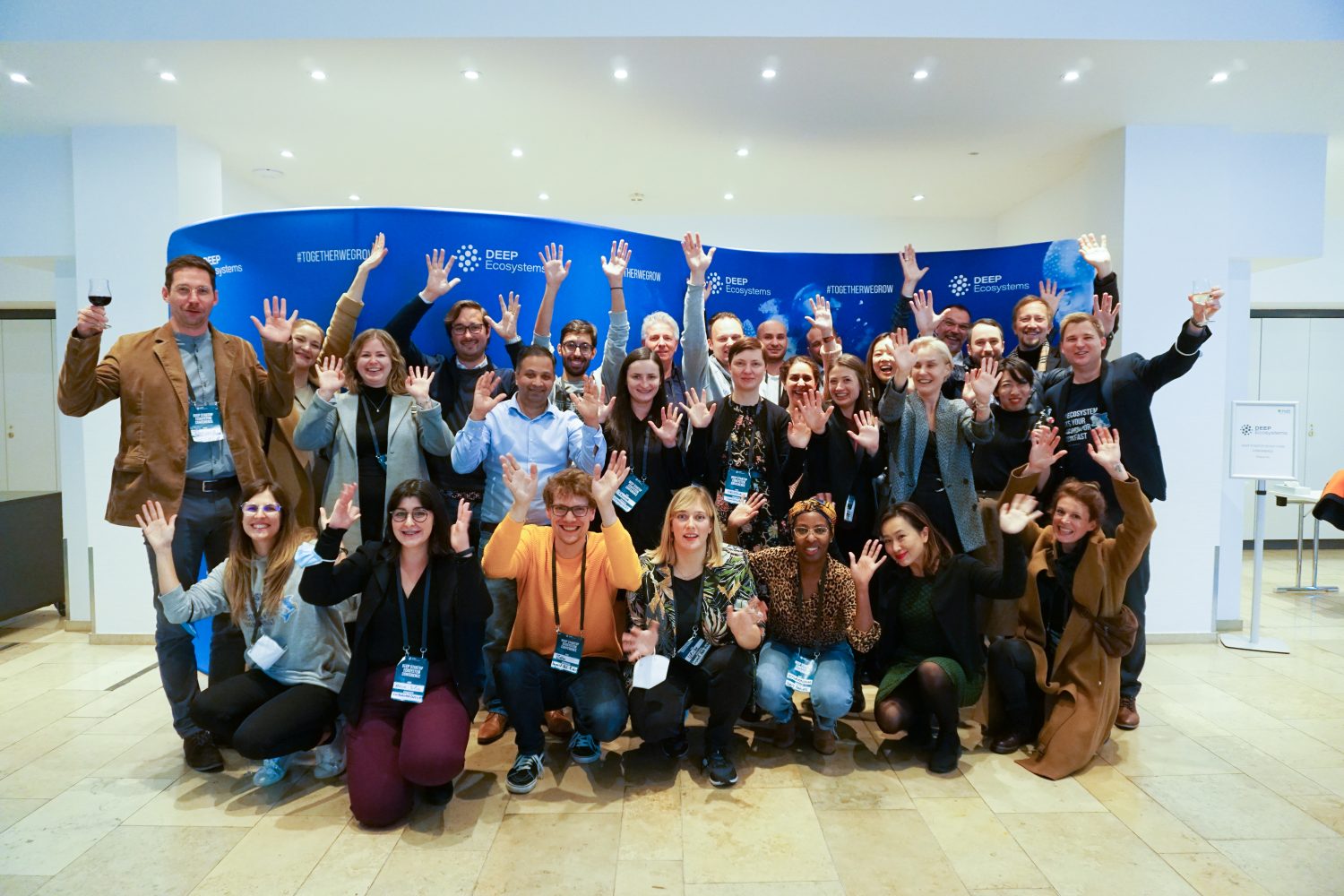 Become the DEEP member and amongst various opportunities, you would receive:
Free access to all upcoming DEEP Ecosystems Conferences

 

Tracking of >8,000 startups in the

Heatmap Startup List

(4x per year)

 

Annual list of Who is Who of European Ecosystem Leaders

 

Full Access to Premium Publications and Analysis on Ecosystem Trends

 

Quarterly Expert sessions with our Data Experts on Ecosystem Trends in your City compared to Europe

 

Tailor-made Data Extracts and Analysis on Demand

 
You can also find our strategic recommendations from previous editions in the following Strategy White Papers:
About DEEP Ecosystems
DEEP Ecosystems is a global community of startup ecosystem builders, dedicated to supporting grassroot innovation projects and fostering interconnectivity among startup ecosystems globally.
We believe in entrepreneurs to build ecosystems that solve the biggest challenges of our times. We help to grow and connect ecosystems through our DEEP Startup Ecosystem Accelerator (DEEPSEA), with over 200 alumni since 2018, one of the biggest ecosystem builder communities in the world that gathers twice a year in our DEEP Startup Ecosystem Conference. Both are backed by our data-driven insights and reports on startup ecosystems through our open Startup Heatmap Europe data platform.