The DEEP Ecosystem Community publishes a
Strategy White Paper on how to strengthen startup ecosystems for

sustainable food production
The 2021 DEEP Ecosystems Conference brought together 175 practitioners and experts from the startup scenes of more than 45 countries to have data-driven discussions on the most pressing challenges their ecosystems face. In a series of Strategy White Papers, we publish the conference´s key findings and recommendations on building more transnational, inclusive, entrepreneur-driven, and impactful ecosystems. To get access to all publications, make sure to sign up to our newsletter.
Food systems contribute 34% of man-made greenhouse gas emissions (GHG). Sustainability has emerged as a key concern, and the modern consumer is sensitive to how food is grown and its impact on life and health. Production, distribution and consumption of food being a part of the same value chain, bringing them together as agrifood is a step in the right direction.

 It provides an opportunity to the growing universe of startups and VCs to disrupt and revolutionize the food systems in previously unknown ways.
Agrifood combines 'agritech' and 'foodtech' and covers the entire value chain
Strategy White Paper: From Farm to Fork – Revolutionizing Food Systems
The Farm to Fork Strategy has been made an integral part of the Green Deal introduced by the European Commission in 2020. The urgency to enhance efficiencies and reduce wastage is also driven by the recognition that the world will need to feed 9 billion people by 2050. The Consultative Group on International Agricultural Research (CGIAR) has drawn up a framework for a sustainable food system that recognizes innovation through technology & science as a driver.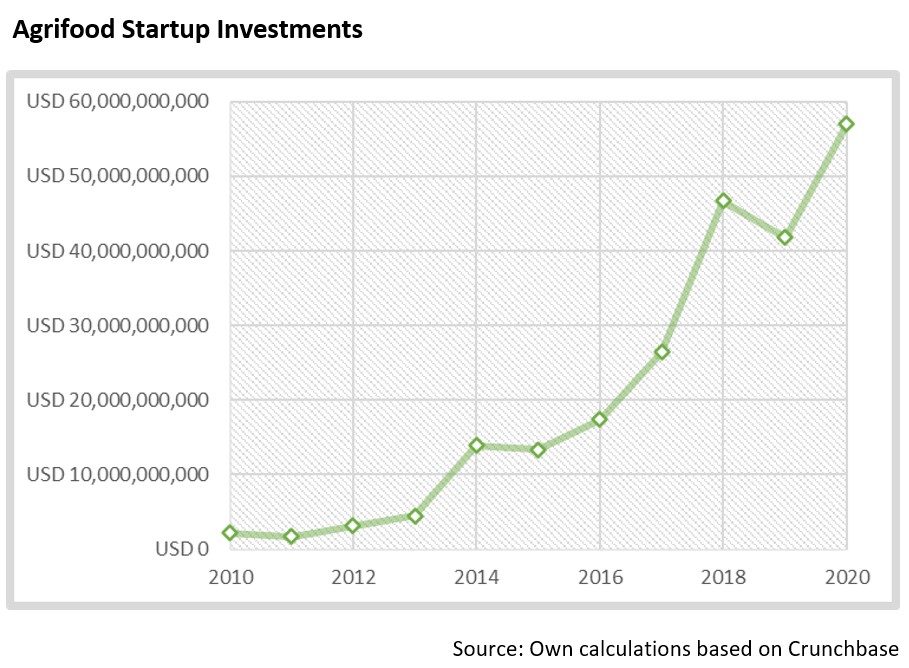 Meanwhile, investments for startups in this sector are experiencing quasi-exponential growth. There has never been a better time to develop the agrifood ecosystem.
Top 5 Facts on Agrifood investments
With USD 70bn raised by Asian agrifood startups from 2010 till date, Asia emerged as the key location for agrifood investments. North America followed close behind with USD 50bn. With USD 20bn invested in agritech in the same period, Europe lags Asia and North America. 
Transactional business models (distribution, consumption) dominate the scene in Asia. In percentage terms of the total investment pie as well, they have been going up in the last ten years.
In Europe, the annual average investment has grown substantially from USD 1.3bn between 2013 and 2016 to USD 3.4 billion between 2017 and 2020.
European investments have tended to favor tech-intensive (non-transactional) agrifood startups.
The concentration of social activity on agritech is concentrated in three cities, London, Paris and Berlin, that account for half of it.
"Full localization, including product translation, is necessary to sell to farmers."
Barriers for agrifood startups in Europe
As the White Paper explores, there are certain barriers hindering the creation and growth of agrifood startups in Europe:
Slow reinvestment. Traditional, family-owned food conglomerates, that dominate the distribution channels, often follow conservative innovation theses and may not leverage all tools of innovation like venture capital, acquisitions and proofs of concept in a balanced way.

Fragmented markets. Regulatory and language barriers make it a complex market to
address.

Lack of vertical knowledge of investors. Capital-intensive nexuses, like that of food and biotech, are less visible, including to investors, creating a deficit of knowledge.
"A lot of the money is going to country-specific investors. This makes the lives of entrepreneurs harder, as capital seems to be tied to borders that do not exist in terms of our target markets. Especially when you are too early for growth capital."
Based on the data presented and exchanges with experts, the DEEP Ecosystems Community have evolved a set of recommendations for invigorating the agrifood startup ecosystem in Europe:
Startups need to know the innovation theses of agrifood conglomerates as well as corporates in related sectors to be able to offer the right solutions. Ecosystem builders could help in mapping these theses. It could be as simple as creating comfort for investors and stakeholders by putting the message across in the right language.
Startups need to define and constantly iterate their channel policies to be able to utilize corporates as channels. A beachhead needs to be established for local business development as well as to access the headquarters of each corporate. Development of a B2B2C distribution model is the solution.
In this age of digitization, software is a powerful tool that is used by almost everyone and binds people together. Agrifood-specialized ERP and supply chain management software can be great channels in this effort.
Cities with capital-intensive startup scenes (e.g. biotech in food industries) need a boost to their visibility. This boost can be facilitated, if not entirely provided, by ecosystem builders.
Verticalized investors with promising track records need to be prioritized by Limited Partnerships (LPs), either public or private. They should replace country-specific investment mandates enforced by LPs, as the startup phenomenon does not respect geographical boundaries.
Implementation of data standards in agriculture and food, including food traceability from farm to waste management, can help minimize market fragmentation. Implementation of standardisation will also build confidence and facilitate accurate measurement.
Agri and food festivals should not be limited to being agri and food festivals. They should be turned into agrifood innovation festivals. Ecosystem builders need to work with festival organizers for this to happen.
Establishing local business development teams and sales channels can help in overcoming the challenges posed by differences in language and trade barriers.
Strategy White Paper: From Farm to Fork – Revolutionizing Food Systems
Image credit: Shutterstock