DEEP Startup Ecosystem Conference unites international innovation leaders
On 15 April 2021, we held the first all-online DEEP Startup Ecosystem Conference, uniting 176 innovation leaders and ecosystem builders from 45 countries for one day.
As a new type of startup conference, this event put the spotlight on the crucial organizers in the background, the changemakers with a vision, the innovation community leaders: ecosystem builders.
The conference in numbers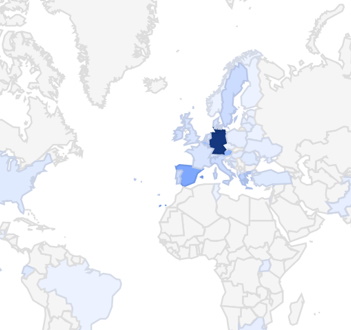 176 participants
45 countries
31 expert speakers
45% female participation
55 new connections made
9 virtual sessions
4h 49 average attendance
The conference´s goal was to support ecosystem builders to build better innovation programs and entrepreneurship ecosystems – based on data, community, and local action.
At the DEEP Startup Ecosystem Conference, attendees had the opportunity to get inspired by visionary thought leaders, learn practical tools and funding opportunities for ecosystems, and analyze tech trends in data-driven workshops (click here for the agenda and full list of speakers).
Let´s build world-leading innovation programs and ecosystems
The conference was inaugurated by the public launch of the Startup Heatmap Report 2021, our annual benchmark publication on ecosystem performance and founder mobility in Europe. Presented by our Head of Research, Dr. Erica Santini, the report titled "The Power of the Ecosystem" analyzes how current shocks like COVID-19 and Brexit have left their mark on the European startup landscape and outlined the trend towards more diversity among European startup hubs.
DEEP Visions
Later on, keynote speakers Bart de Witte (Founder, HIPPO AI Foundation) and Alain Bertaud (Senior Fellow at the NYU Marron Institute of Urban Management & Former Principal Urban Planner at the World Bank) presented their view on future trends – and why they matter for startup ecosystems. Focusing on the immense potential of the Open Source movement for business, health, and society in general, Bart argued that it "might be the most brilliant thing we can do in Europe".
Alain explained how cities can become the breeding ground for social and technological innovation. He stressed that "mayors should be janitors – very good and competent janitors". Rather than having visions, they should principally focus on providing the supporting infrastructure to allow companies and households to thrive.

DEEP Dives
Participants of the DEEP Startup Ecosystem Conference gathered around virtual roundtables to explore topics with a high potential to determine the success of ecosystems. In five DEEP Dives, the following topics were analyzed:
Based on expert insights by industry leaders and data-driven strategy briefs, the workshop participants learned about key concepts and market trends in their topic of choice. This was followed by an interactive discussion and analysis of potential applications and funding opportunities for innovation ecosystems.
The outcomes of the five DEEP Dives will be published as White Papers. To get access to the upcoming publications, make sure to sign up to our newsletter.
A Conference and Accelerator Program for Innovation
Managers and Ecosystem Builders
The DEEP Startup Ecosystem conference serves as a forum that paves the way towards new and impact-driven action. That is why conference attendees were invited to apply for the upcoming DEEP Startup Ecosystem Accelerator.
In the six-week accelerator program, as our Head of Accelerator Sebastián Diáz explained, ecosystem builders will get all the support they need to design and implement new, world-leading innovation projects for their communities.
How succesful ecosystems can make an impact was also demonstrated during the ecosystem pitching session. Among five select ecosystem initiatives, the audience selected Alpine Tech Innovation Hub from Austria and Envolve Entrepreneurship from Greece as winners. Congratulations!
Together we grow ecosystems
We want to say a big thank you to all participants, speakers, partners, and sponsors for their commitment and support. We feel encouraged to keep on building new opportunities for ecosystem leaders to connect, learn, and co-create. Stay tuned for our next events and activities!