After remarkable performance in the start-up ecosystem in Europe, for the second consecutive year, the capital of Portugal gets to host Web Summit. Coincidence or well-deserved achievement?
Lisbon is the 8th most preferred start-up hub in Europe, followed by Munich and Milan.
Lisbon's presence on Europe's ecosystem is rather recent but compared to many already established start-up hubs the capital of Portugal already offers dynamic environment for sustainable business expansion and growth. One of the most exceptional findings of Startup Heatmap Europe 2016 (SHE) was Lisbon – its +20 ranks rise did not go unnoticed!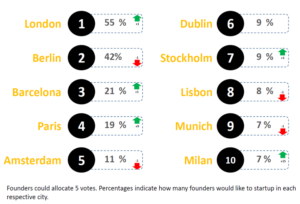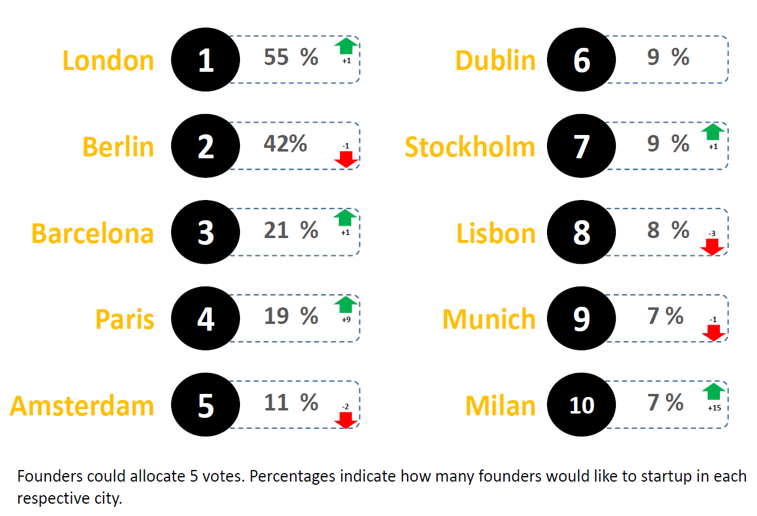 In 2017, we asked founders in Europe again where they would establish their business if they could start all over again. 8% of the survey participants chose Lisbon for their new start-up location, and placed the start-up city for another time in the top 10 favourite start-up hubs in Europe – although 3 ranks below the 2016 result. Together with Barcelona, the city of the seven hills represents the vivid ecosystem of Southern Europe.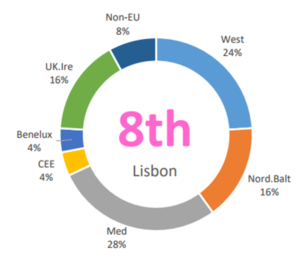 With an average of 1429km Lisbon is the Challenger Hub, with the furthest followership coming from 13 different countries. Most of them come from the Mediterranean area (28%), followed by Western Europe (24%) and the Nordics and the Baltics (16%). However, when looking at the Lisbon-based founders participating in the 2016 and 2017 surveys, only 6% are acutally foreign-born. This is far below the European average of 21%. Therefore, the biggest challenge of Lisbon will be to turn its new gained international appeal into actual movements in the future.
Lisbon is an aspiring challenger hub – thriving to catch-up with Europe's international hubs!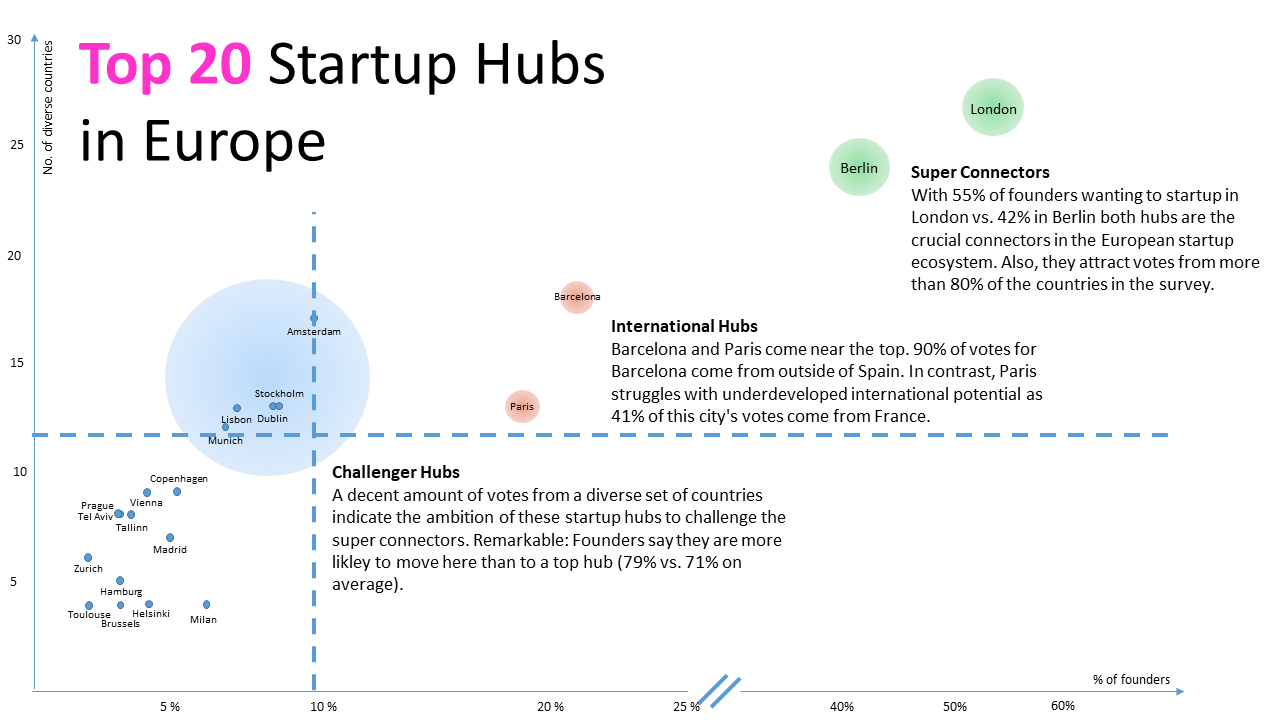 Lisbon was considered the first European Capital of Entrepreneurship for 2015. The city has since then developed a strong international appeal and attracted a number of large-scale investors; it also hosts a number of small-scale events weekly, giving its ambitious entrepreneurs the opportunity to network and maximize location potential. The most recent report of Startup Heatmap Europe labelled Lisbon a challenger hub, reflecting its rise in popularity as start-up hub and also its yet to be exploited potential and competitiveness in Europe's ecosystem.
Lisbon is vibrant and quickly developing start-up hub!
Although success rate for start-ups is still low, Lisbon is most definitely dedicated to enabling innovation and creating better environment for founders, ultimately ensuring better quality of the local ecosystem. Among the challenger hubs, Lisbon shares the highest approval rate with Amsterdam for overall quality of the ecosystem (60%). It is also second after Dublin on endorsement for ease and cost of doing business (52%). However, also a high portion of founders who could imagine to startup here complain about the lack of access to capital: 28% of Lisbons' followers think access to capital is bad or very bad. This is in fact the worst rating any hub in the survey received in this category.
Still, the potential is recognized and the start-up trendiness is strongly supported by the massive number of incubators, accelerators and investors. Among these are definitely Startup Lisboa, Caixa Capital, Beta-i and BGI. In 2015, Web Summit Co-Founder Paddy Cosgrave confirmed that Web Summit will be hosted in Lisbon, Portugal for the next three years. We are excited to see how this vibrant ecosystem is putting its brand on the world map. Until then: Good networking on WebSummit!