Where will be the "Sustainability Valley"? With the newly developed index DEEP Ecosystems provides a thorough analysis of the capabilities of cities and their innovation ecosystems to capture the immense economic opportunity from the future demand for solutions in the ESG sectors worldwide.
The report reveals a total of $60bn being invested in ESG focused startups across over 100 cities since 2018. ESG solutions included, are those that will likely see a surge in demand in the future, when the transition to a more green and sustainable economy accelerates. It includes solutions for ecology, waste management and clean energy in the environment sector, health and education solutions in the social ESG sector and e-government, public transport and smart city solutions in the governance related ESG sector.
Final Ranking Future City ESG Innovation Index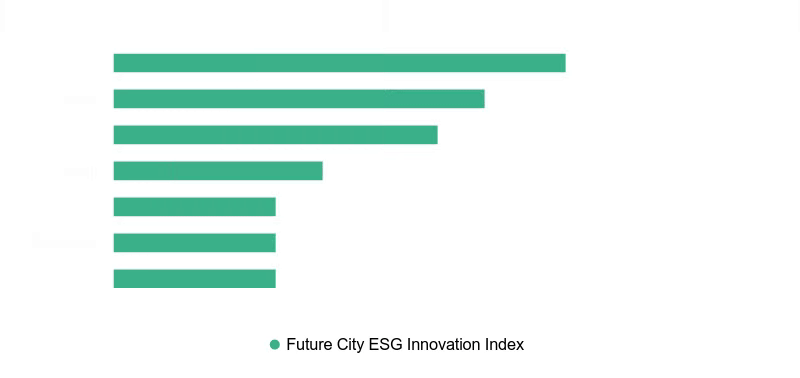 With such economic growth potential, cities are eager to win the race to become the new innovation champion. The report elaborates on city-level strategies for ESG innovation with many examples. It shows that first-movers have an advantage. For example, Stockholm, that was one of the first European cities to embrace a green economy as a strategy ranks 2nd for ESG investments with >$7bn raised since 2018. Another hidden champion, Copenhagen scores high due to its government support for ESG solutions. And the city of Moscow boasts a strong knowledge base as well as the highest share of EdTech startups, that is considered under the Social Dimension of ESG.  
The report analyses the potential of innovation hubs to support sustainable innovation in the ESG fields based on 4 sub-indexes with 8 compound metrics and 29 individual indicators. These cover the Community of ESG Entrepreneurs, their Entrepreneurship Support Network for ESG Solutions, the Societal Backing for ESG solutions as well as the Governance by local authorities. Next to the rankings, the publication features 8 in-depth case studies on London, Moscow, Berlin, Tel Aviv, Paris, Stockholm, Copenhagen and Madrid. Last but not least it lists the top 70 startups based on investments raised.
To download the report follow the link: https://pub.lucidpress.com/FutureCity/