Latin American startup ecosystem builders launch 7 new initiatives for sustainability & impact
We just completed our first Latin American edition of DEEPSEA, our Startup Ecosystem Accelerator.
In a three-week program sponsored by GIZ, the German development cooperation agency, a diverse group of 36 ecosystem builders from Argentina, Bolivia, Brazil, Chile, Colombia, Ecuador, El Salvador, Haiti, Honduras, México, Paraguay, Peru, Trinidad & Tobago, and Venezuela came together to learn about startup trends, exchange experiences, and develop new project ideas. Following the theme "Startup Ecosystems & GIZ – Collaboration for the SDGs" the participants have been forming cross-border teams to develop innovative ecosystem initiatives.
To get inspired, the DEEPSEA participants interacted with expert guest speakers Milena Stolz, Junior Advisor at GIZ Innovation Factory, Claudia Pompa, Founder and Managing Director at Consulting for Growth Group (C4G), Laís de Oliveira, Founder and Author at Hacking Communities, and Inty Grønneberg, Co-founder and CEO of Ichthion.
Thanks to their insights, and supported by our experienced mentors Igor Oliveira and Sebastián Díaz Mesa, the DEEPSEA participants presented the following proposals before an international expert audience during the pitching day on 23 October 2020:
Sustainable Energy Innovation Hub in Querétaro, Mexico
Team members: Jan Schiele (Lucid.Studio Colombia), Juan Carlos Mendoza (GIZ Mexico), and Karen Carrillo (ConQuito)
The project aims to create a collaboration platform between startups, MSMEs, industry, and research institutions to create synergies, strengthen business models, and support tech development.
Thinking Globally & Acting Locally for Sustainable Solutions in LATAM Ecosystems
Team members: Alex Cárdenas Rodríguez (Emprendec), Lena Harm (GIZ Bolivia), Olman Alvarez (Universidad Nacional Autónoma de Honduras), and Guilherme Rosa (Constellatio Open Innovation)
This project seeks create a global mindset for Latin American entrepreneurs, to increase the number of global founders in Latin American ecosystems and support the internationalization of startups in the region.
Opening Society to Digital Innovation
Team members: Julio Lopez (Datalat), Philipp Alexander Moser (GIZ Germany), Daniela Larrea (ConQuito), and Regina Sanchez Sosa (GIZ Mexico)
This initiative seeks to reduce the gap between innovative high tech solutions and value creation for relevant social challenges.
BIOHUB
Team members: Stella Deppe (GIZ Ecuador), Violeta Morán Carofilis (Fundación Emprender), Santiago Calvopiña (Mastermind), and Daniela Peralvo (Impaqto)
BIOHUB aims to accelerate bio-entrepreneurship to support the development of fairer, more inclusive, regenerative, and sustainable Bio-Economies.
Latin American Women Innovation Lab
Team members: Vanessa Rosero (CorpoAmbato), Williams Ventura (GIZ Peru), Carmen Martín (Salcobrand), Carlei Nunes (Abstartups), Luisafernanda Velasco (GIZ Bolivia), Yuriana Gonzalez Ulloa (GIZ Mexico), and Dunia de Barnola (GEN Venezuela)
The project seeks to develop a training and incubation lab for innovative, high-impact entrepreneurship initiatives led by women.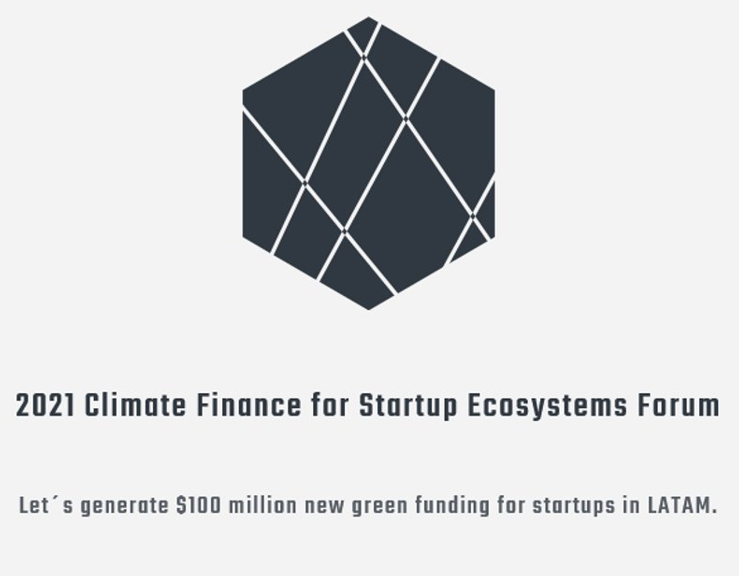 2021 Climate Finance for Startup Ecosystems Forum
Team members: Justin Schwartz (Impaqto), Majo Martín (Rongonimals), Samuel Salazar Genovez (FUSADES), and Harald Eisenhauer (GIZ Ecuador)
The forum seeks to reduce the gap between multilateral funds and startup climate action. Through education, engagement, and community-building, it will show that climate finance and startup ecosystems are a perfect match.
INNOVALATAM
Team members: Enrique Crespo (ConQuito), Christian Higuera (Innovar en Simple), Camila Palacios (AEI Ecuador), Carlos Santiago Sosa (Instituto de Desarrollo Productivo Tucumán), Katherine Sogamoso (Walmart Chile), and Elena Rueda (GIZ Germany)
INNOVALATAM is a space to promote open innovation among companies and startups in Latin America, based on joint learning and collective intelligence of local ecosystems.
We are overwhelmed with joy to see such great commitment and creativity from startup ecosystem builders across Latin America. It is our goal to continue working with our new DEEPSEA alumni and help them to make their projects become reality to boost sustainability & impact in LATAM and the world. 
Stay tuned for the next edition of DEEPSEA.