Consolid8's Co-Founder Raluca Preluca and her Journey with DEEP Ecosystems
This community spotlight article celebrates the achievements of our DEEP Ecosystem Community. We proudly highlight the work Raluca Preluca, Co-Founder and Community Manager of Consolid8, is doing in Romania.
DEEP Ecosystems has helped many innovation managers around the world in building thriving entrepreneurial ecosystems. One of them is Raluca Preluca, a dynamic innovation manager who began her journey at fonduri-structurale.ro, an organization that supports and showcases entrepreneurship, business development, and funding opportunities in Romania since 2007.
In 2020, Raluca was one of the co-founders of consolid8, Romania's first crowdfunding platform for social entrepreneurs, as a spin-off initiative of fondur-structurale.ro. In general, social entrepreneurs are driven to make a sustainable, positive, and social impact in their society by means of a viable business model. And Crowdfunding is among the most recommended funding models for social entrepreneurs.
Joining the DEEP Startup Ecosystem Accelerator with her initiative in 2021, Raluca has led the successful expansion of Consolid8's network and community and positioned it as a positive force in Romania and the EU. The accelerator has helped to develop her initiative based on DEEP's unique approach towards building successful entrepreneurial ecosystems. An entrepreneurial ecosystem can be understood as a network of interdependent actors and factors that enable and support productive entrepreneurship in a region or vertical. Including domains such as policy, finance, culture, support instruments, human capital, and markets, a functioning entrepreneurial ecosystem provides a favorable environment for entrepreneurs and startups to develop and grow.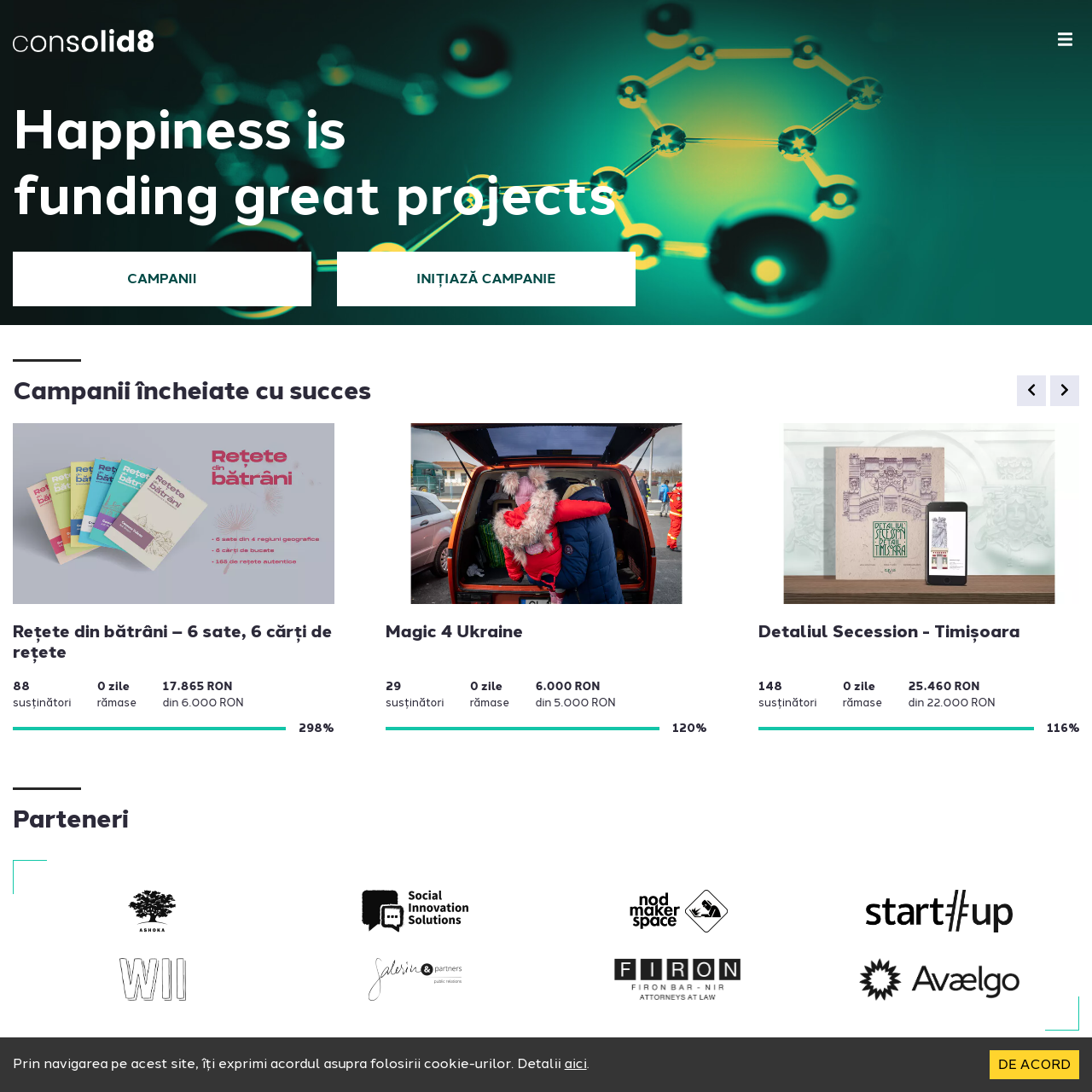 consolid8: Romania's first crowdfunding platform for social entrepreneurs.
How to become an ecosystem builder
Born and raised in Romania, Raluca is passionate about supporting business development opportunities for talented entrepreneurs in her country. Her goal is to clear the path for social impact startups and startups from the cultural and creative sectors to thrive and make a difference in Romania.
Raluca shares, that back in 2010, when she graduated from National School of Political and Administrative Studies in Bucharest with a degree in Public and European Administration, it was very difficult to find a job and start a career in the public sector. Turning a challenge into an opportunity, Raluca jumped on an internship opportunity with fonduri-structurale.ro that was facilitated by her university. This decision allowed her to support, and then manage economic development projects.
Yet Raluca has never ceased to look for ways to engage with Romania's public administration and contribute with new ideas to help others engage in regional ecosystem developments. The idea is to inspire and help Romanian stakeholders to understand what is feasible for their unique entrepreneurial market, what opportunities exist, and what are the risks they need to face as innovators in Europe. She understood that to advance the ecosystem, it is key to nurture creative human talent, foster innovative entrepreneurship, and unlock impact-oriented investments. Raluca is also convinced that a mix between talent and strategy is necessary to grow stronger networks, initiatives, and ventures, as this is where the funding starts to take place.
Additionally, successful social entrepreneurs need to be assertive and take risks as well as understand how to and when to start a business. For Raluca, honesty is the most important value to have when building an ecosystem, as this allows entrepreneurial visions to prevail in time.
Entrepreneurial Advice for Ecosystem Builders
We asked Raluca for her advice to entrepreneurs. She answered that more than any advice, having knowledge or a new idea and supporting one another is key for business success. "When we realize that we are not alone and that we can rely on other organizations to support us", she says, "then there is the opportunity to tap into enormous potential. This motivates people to evolve and leave their fears behind." Raluca sees her role in supporting entrepreneurs to push forward for innovation and enable ideas that are potentially game changing paths for funding and venture builders.
Social Entrepreneurs and Crowdfunding as Vehicles for Success
Consolid8 offers its community a one-year business acceleration program for impact entrepreneurs, and its own crowdfunding platform. The platform allows businesses to present their products and services and serves as a cornerstone for public promotion campaigns. One recent business that benefitted from consolid8 is Prunka, a company that produces educational baby toys made of sustainable materials and donates a significant share of its revenue with a charitable childcare organization. On consolid8's crowdfunding platform, consumers and supporters can directly invest in the exhibiting companies and in return receive rewards, based on the size of their support.
Video about consolid8, the first festival in Romania dedicated to green tech and sustainable solutions.
At the same time, consolid8 actively builds visibility and an action platform for its community and the beneficiary businesses by organizing the annual consolid8 festival taking place in Romania. Attendees and exhibitors use this event to exchange on new technologies and business models and discuss how to further promote sustainability for a better future.
Impact beyond Romania
Yet Raluca's ambition to promote social entrepreneurship does not stop there. She successfully led an international group of likeminded ecosystem builders to succeed in winning a major financial support from the EU's Horizon Europe program (with support from DEEP Ecosystems). This will enable more than fifteen social entrepreneurship support initiatives from Greece, Ireland, Italy, Romania, Slovenia, and other countries across Europe to strategically grow their reach and impact. Under the same name Consolid8, the project seeks to strengthen European social entrepreneurship ecosystems through peer learning, a joint conference in Brașov (Romania), and an international accelerator for social entrepreneurship ecosystem initiatives. The ecosystem accelerator, scheduled to take place in 2024, is based on the DEEP Startup Ecosystem Accelerator and will be implemented by DEEP Ecosystems.
As DEEPSEA alumni, Raluca and her team are active members of the DEEP Ecosystems community. There, they get a chance to connect and learn with other members, start new collaborations, and get tools and support to further grow. DEEP Ecosystems has supported over 200 international ecosystem builders. At the moment, there are over 50 active ecosystem building initiatives like Consolid8 in DEEP's growing ecosystem building movement.
At DEEP we are extremely proud of Raluca's work and of her leadership with Consolid8 in Romania and across Europe. We know this initiative will continue to be a success supporting many entrepreneurs in Romania and beyond. If you would like to connect to Raluca and consolid8, please visit consolid8's profile on DEEP Ecosystems portfolio or connect via LinkedIn.