An intriguing new survey on 700+ founders reinforces the notion that hotspots in the Nordic countries are increasingly gaining reputation as best places to startup in Europe. The study called Startup Heatmap Europe asked entrepreneurs to choose which cities they would locate their startups if they could begin again. Interestingly, the Nordic region brings two hotspots into the top ten.
According to the Startup Heatmap Europe, the Nordics benefit from startup migration with 5% more founders coming to the region than leaving. This means that the region is able to attract foreign talent from all across Europe. In fact, two cities from the region, Stockholm and Copenhagen, are very popular with founders who think they are definitely some of the best places to start up in Europe.
On closer analysis, Stockholm emerges as the regional champion with almost 50% of endorsements from Nordic founders. Actually, the report suggests that half of the founders from the Nordic countries would either start up in Stockholm or Berlin (the overall number one) implying a strong regional appeal.
Second in this sub-ranking is Copenhagen where 1 in 3 Nordic entrepreneurs consider the Danish capital a fabulous place to start up. While Oslo in Norway attracts about a tenth of regional startuppers, Helsinki jumps 10 ranks up in the classification of best startup locations as far as Northern European founders are concerned.
To create profiles for each city, four vital elements for startup location were evaluated namely: access to talent, quality of ecosystem, access to capital, and burn rate. Considering the Nordic cities in the study, Stockholm excels for an excellent pool of talent and for relative ease in obtaining capital. It is more popular with high-tech startups (hardware, IoT, VR, big data, fintech, health and biotech) than with internet startups (e-commerce, mobile applications and SaaS solutions). Copenhagen stands out for a low burn rate and is well received by internet startups. Also, Helsinki is particularly appreciated for a thriving ecosystem and Oslo climbs +3 ranks in the opinion of high-tech founders.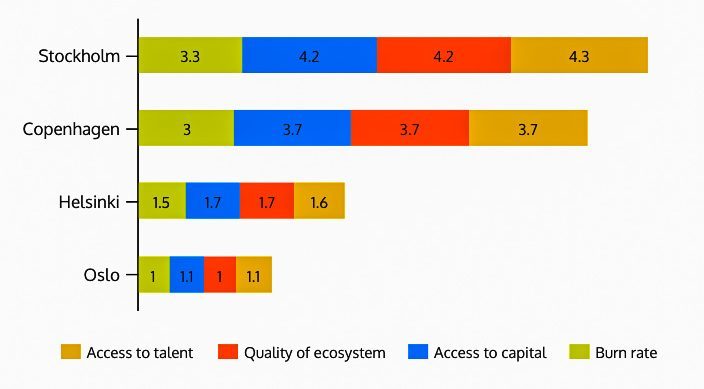 Clearly, there is competition among hotspots in this region and while there is room for specialization, community builders must step up their game to be able to attract more entrepreneurship to their ecosystem. Already, the Nordics are facing stiff competition from the neighbouring Baltic countries which have been able to register an impressive net startup migration inflow of +14% as a whole, the highest figures in the survey.
In reality, Tallinn, a rising star of the Baltics, contends closely with Stockholm in the sub-ranking of endorsements from founders that hail from Northern Europe. In the overall ranking of Europe's best places to start up, the Estonian metropolis climbs a whopping +17 ranks with respect to what startup media attention would suggest. Intriguingly, Tallinn is almost on par with Copenhagen as regards to popularity with internet startups and low cash burn rate. Though it falls short of the top ten by 2 ranks, it is crystal clear that Tallinn is in fierce competition with adjacent hotspot cities. Likewise, Riga, capital city of Latvia, manages to stand one step higher than Helsinki in the view of Northern European entrepreneurs while rising +8 ranks in the overall ranking to beat Oslo particularly for its economical monthly costs (for the full ranking, click here).
In this in-depth report, Startup Heatmap Europe carefully shows that entrepreneurs are on the move and that competitiveness among startup hubs is key to attracting foreign talent. Already, the progresses made by the Nordic startup community has benefited whole industries and produced giant positive impact, just think of Skype or Spotify as examples. By the next Startup Heatmap Europe survey, we may expect to see more entrepreneurs gravitate towards this fast-growing startup scene.
Register here to receive updates on the 2017 Startup Heatmap Report.
― Originally published on Slush.